Rich in its Simplicity, Mykonos Architecture Fascinates the Senses
Strong winds, high humidity levels, intense and extended sun exposure and longs periods without rain, are the main elements that characterize Cyclades climate. But thanks to these, travelers can still admire the cubic-shaped edifices with their flat roofs that offer protection from the Cycladic winds. The houses feature small openings to their northern sides, to eliminate humidity and thermal loads. The dense foliage that adorns the exterior of the houses offers cool areas, while their whitewashed walls prevent the solar absorption, thus the interior features tolerable temperatures throughout the year. The yards, the verandas and the semi-open entrances, they all serve a specific purpose. 

A stroll around Mykonos's cobbled narrow streets will reveal its magnificent beauty; it is rumored that they offered protection from pirates who were lost inside Towns maze alleys. Hues of the Aegean are depicted in the house's blue window shutters, while the balconies are adorned with purple blooms of bougainvilleas.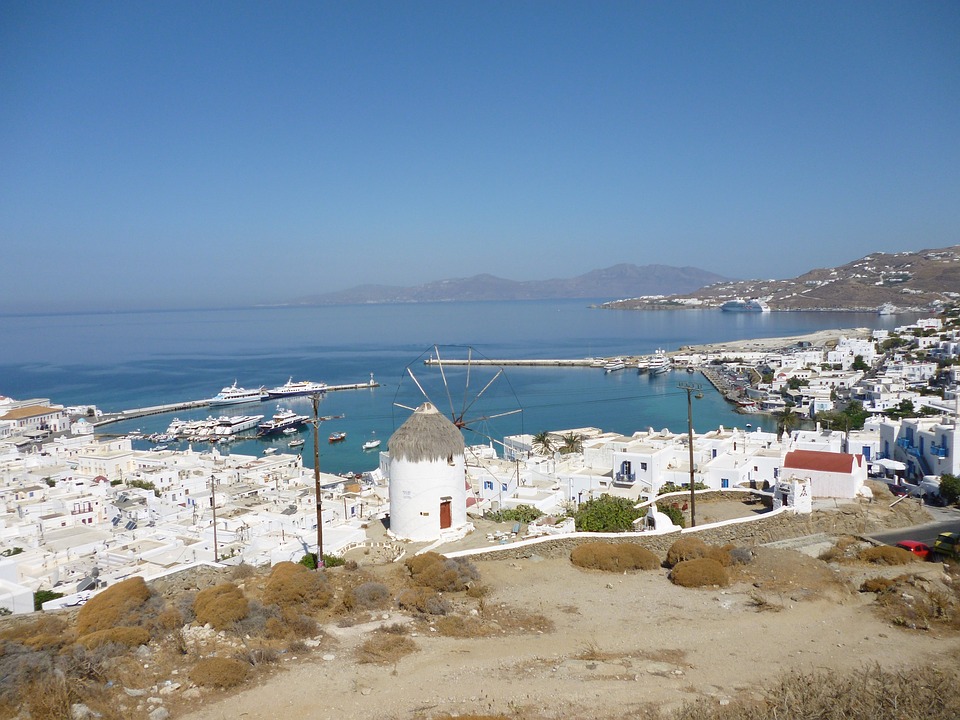 They are also many churches, monasteries and chapels that stand out as architectural landmarks. The Monastery of the Panagia Tourliani, built in 1580, juxtaposes unique beauty with its stunning vermilion cupola. 

Venetians have also left their mark on the island where it is well depicted on Mykonos architecture. Small Venice is a magnificent neighborhood, with old merchants' residences overhanging the sea. The balconies are decorated with vivid colors, while at the ground level its likely to find bars and cafes. There is also the medieval castle of Gyzi that stands in Ano Mera. The castle was built in the 13th century, during the rule of the Venetian Gyzi family, to protect the island from pirate invasions.

Mykonos is dotted with architecture landmarks. Just take a break from beach strolling and wander around its breathtaking setting.