Experience the VIP way of living…only at the villas of Saint John Mykonos!
Saint John Hotel Resort presents guests with an outstanding selection of villas for those who always want to acquire only the best in life and will settle for nothing less… The luxurious, spacious and highly stylish ambience each of the villas at Saint John cherishes, is bound to make you feel on top of the world! If you wish to experience the VIP way of living on the island of Mykonos, then look no further…for our villas are destined to make you feel seriously indulgent and pampered!

The villas come in various sizes and boast between 1 and 5 bedrooms according to the requested occupancy. Each of the villas has its own private swimming pool and guarantees absolute privacy and peace of mind for the acquisition of a truly magical stay on the island of the winds.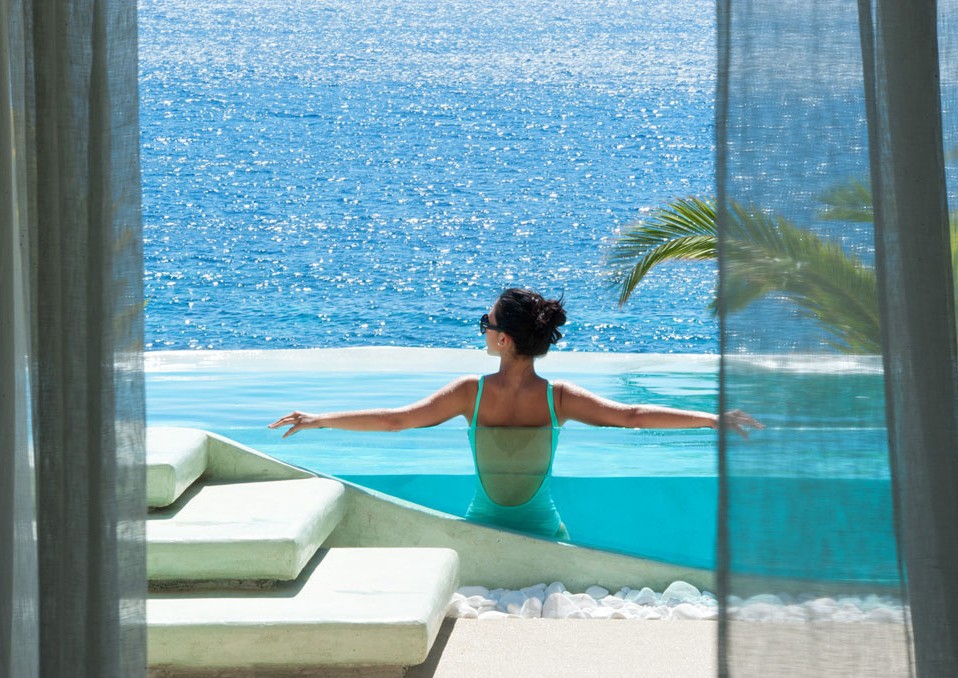 The 'Queen of the Cyclades' is without the merest of doubts the most cosmopolitan island in Greece. The villas selection at Saint John is a magnetizing pole of attraction for numerous VIPs and celebrities every year and they are specially crafted for guests who seek exclusivity and breathtaking views to the endless blue of the Aegean Sea.

The Villa Rooms: The one-bedroom villas guarantee enjoyable cocooning within a spacious interior. They boastelaborate furniture and fabrics and a beautifully tiled bathroom area with branded toiletries. Absolute privacyis guaranteed and stunning surroundings consist of a natural rocky landscape, lush green and huge private verandas overlooking the serene magnificence of the sea.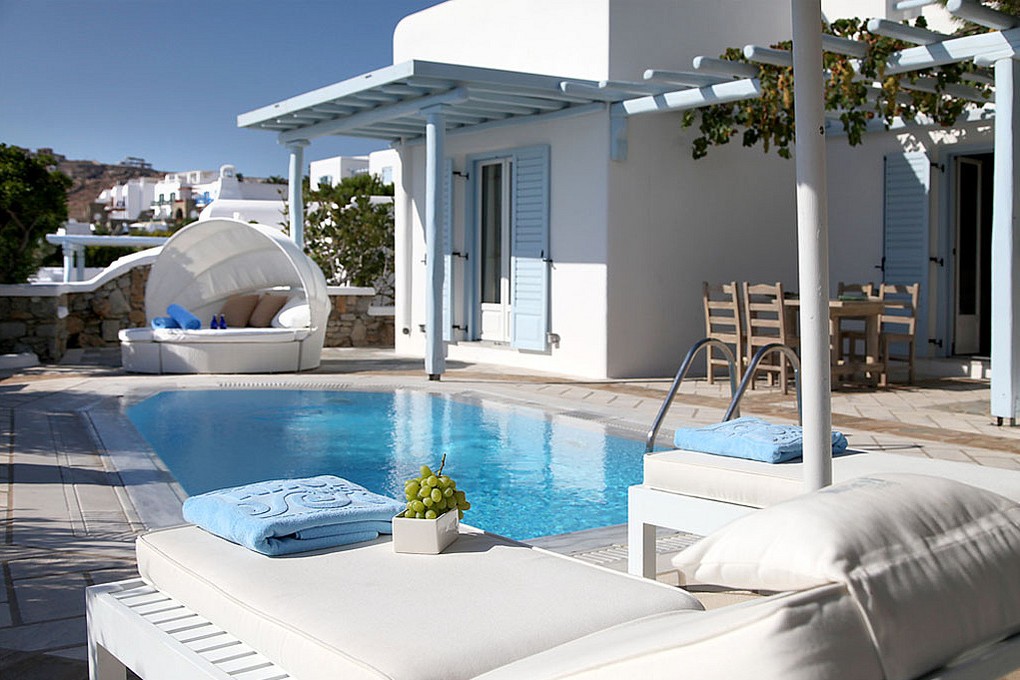 Two-bedroom villas: Relax, unwind and sense the unhurried pace of island living... Deluxe facilities are the core characteristic of the two-bedroom villas which boast three airy bathrooms, ample open-plan living areas, a private pool and stunning sea views from a private veranda.

Three-bedroom villas: Welcome to your dream home generously offering an alluring Myconian styleand living spaces that can accommodate large groups. Luxury decors, elegant furniture and fabrics guarantee maximum comfort and indulgence. The marble bathrooms boast a steam shower, a Jacuzzi and a bathtub. Enjoy carefree days and nights by your private pool and benefit from the comfortable loungers as you gaze at the sparkling sea from your private terrace.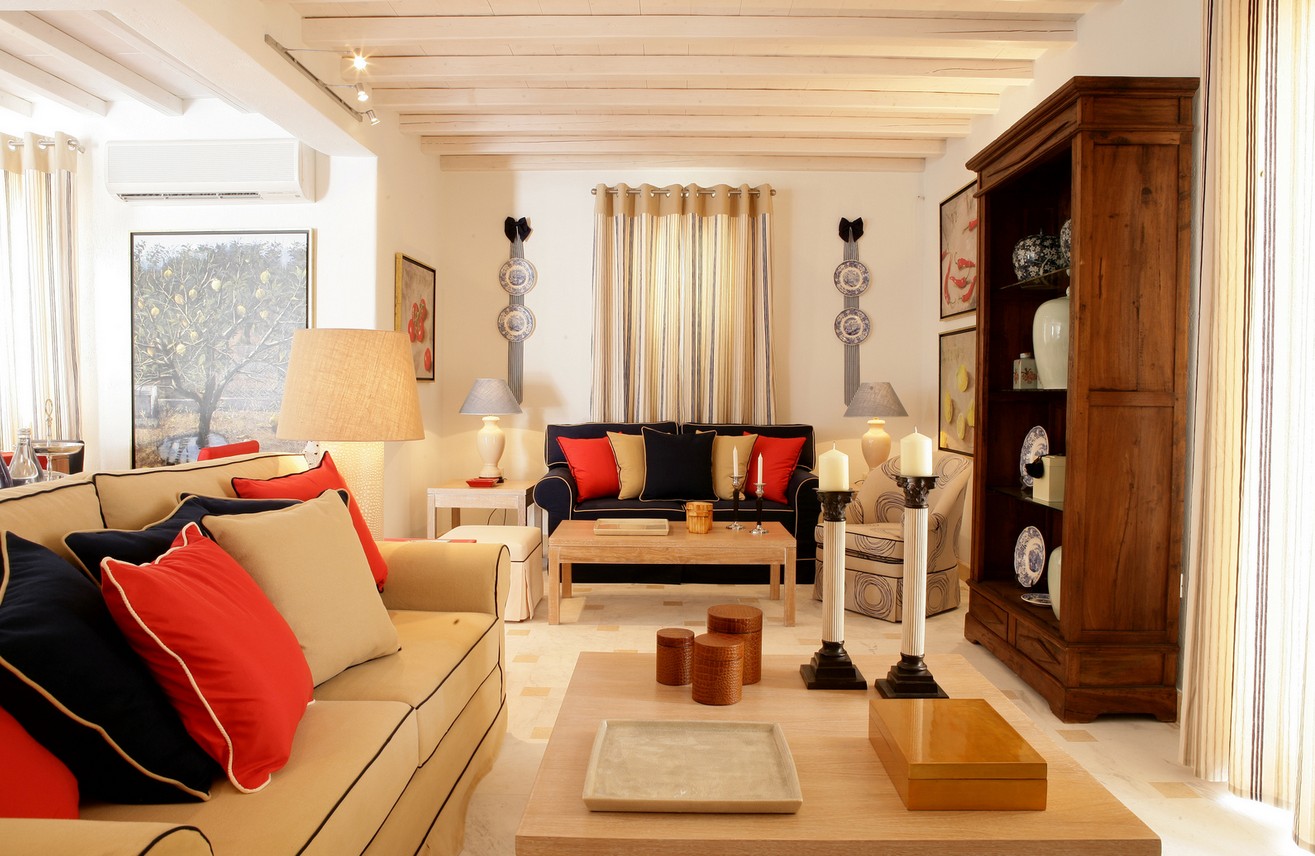 The state-of-the-art Four-bedroom Villa: Experience the genuine Myconian life and surrender your soul within stunning surroundings that incorporating state-of-the-art facilities and impeccable services. Tasteful furnishings, precious fabrics, Jacuzzi, steam shower, bathtub, private swimming pool and terrace with beautiful garden furniture and breathtaking sea views... Who could ask for more?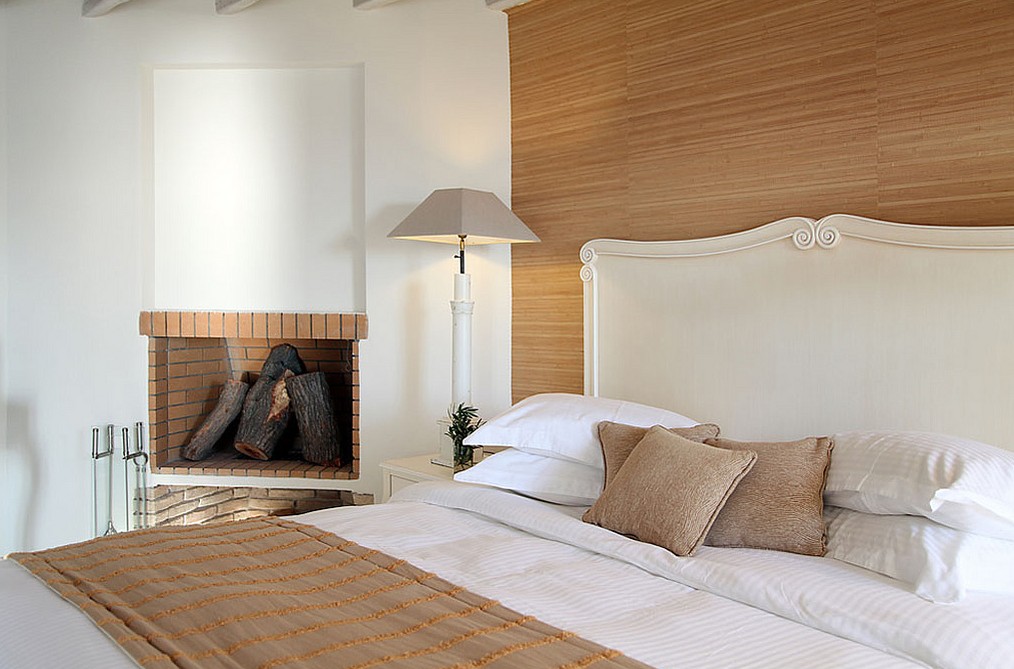 The glamorousFive-bedroom Villa: Stunning interior decoration, modern furniture and seriously luxurious facilities across and around… The epitome of glamorous accommodation on the island of Mykonos!

All Villas are fully air-conditioned and present guests with high-tech appliances in the living room (Cable-Satellite TV,CD/DVD Player) and a fire safety system. Most contain a fully equipped kitchen with modern appliances and coffee facilities. Housekeeping visits your villa on a daily basis and there is free use of bathrobes and beach towels. Internet access and a direct telephonelineare available at all suites too.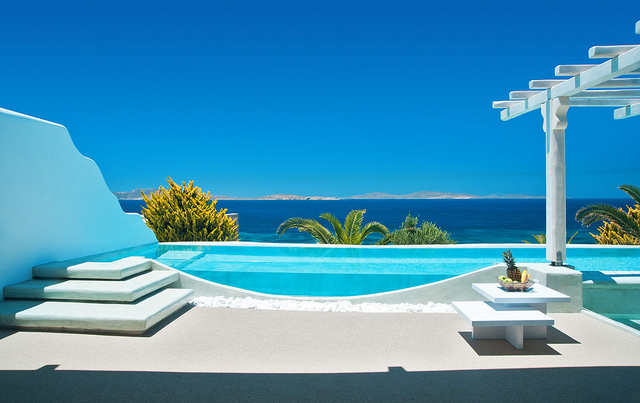 You are just a click away from booking one of the most prestigious villas on the island of Mykonos! We will be happy to accommodate your needs and preferences with cordial hospitality.