A Healthy Fully Energizing Breakfast Served to Perfection
At Saint John Hotel Resort Mykonos, we understand how important breakfast is. It is indeed the most important meal of the day, as it allows you to get the energy you need till you set outon your next Mykonos adventures. This is why we greet you with a wholehearted "Kalimera" every single morning, along with a rich buffet style breakfast that will make your day!

In a bright and airy environment, we create for you a gastronomic feast starting early in the morning. A plethora of fresh fruits and vegetables on display, sliced and served for your absolute convenience. Freshly ground coffee and the finest collection of teas, rejuvenating juices and a cornucopia of both sweet and savory delights are waiting for you to taste. Bread and pastries, baked goods and traditional recipes with a twist, pies and desserts, as well as fine Greek yoghurt with organic honey and high-quality nuts, these are just few of the delicacies that you are going to find at the buffet.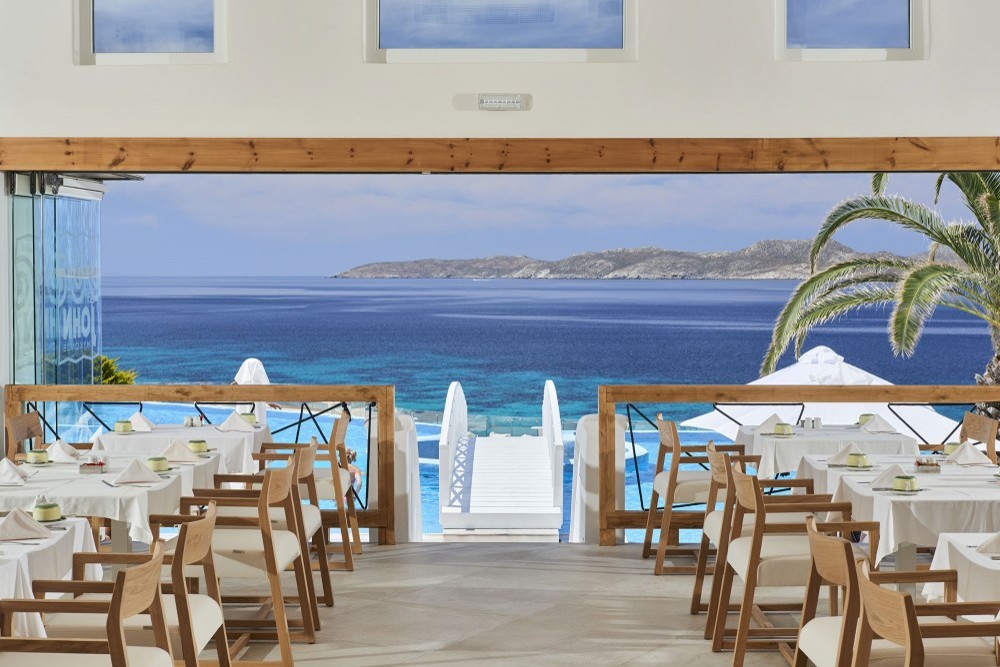 There are of course food options covering all dietary preferences. Gluten free and vegetarian options will allow you to combine great taste along with the convenience and carefree selection of food that is in perfect alignment with your diet plan. Breakfast experience at Saint John Hotel Resort Mykonos is meant to provide the pinnacle of pleasure, without causing even the slightest discomfort. So breakfastcan be fully customized, in order to meet your personalized needs and desires.

Wake up early and get out of bed with a huge smile upon your face. The finest, most luxurious breakfast is served every single day in the most spectacular environment. "Kalimera" welcomes you and offers everything your heart desires, for yet another perfect day in Mykonos!