Dreamy Mykonian weddings… Say "I do !" in the most memorable way
Could you imagine how special it would be for your wedding day to unravel within luxurious surroundings with spectacular landscapes all around? 
The sunny climate, the blue sky, the mesmerizing Aegean Sea, the hospitable people and that holiday sensation just before you say "I do !", all play a vital role in creating the best wedding scenario ever!
At Saint John Mykonos Hotel Resort we promise you a wedding ceremony and reception beyond imagination followed by a magical honeymoon in one of our superb suites or villas.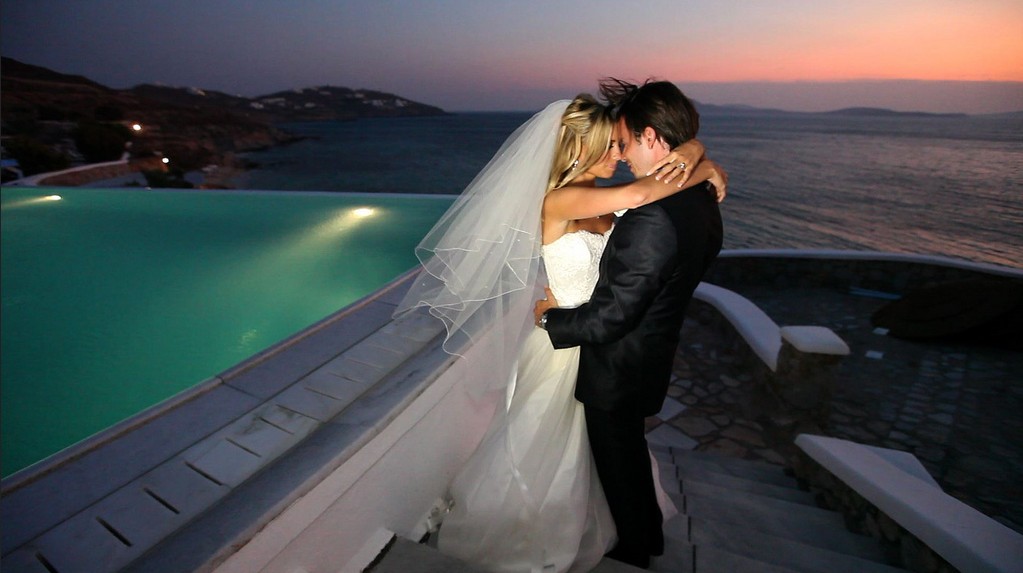 Photo credits: www.saintjohn.gr
Your wedding in Mykonos will be long remembered by your family and friends… Within the resort we cherish our very own private white-washed chapel named 'Ayia Fotini' that constitutes a truly idyllic and romantic setting for one of the most important moments in your life. The moment that you exchange wedding vows with your other half… The glorious beauty of this distinctive Cycladic island will transform your wedding into a dreamy event. What better place to begin a lifetime of joy and fulfillment?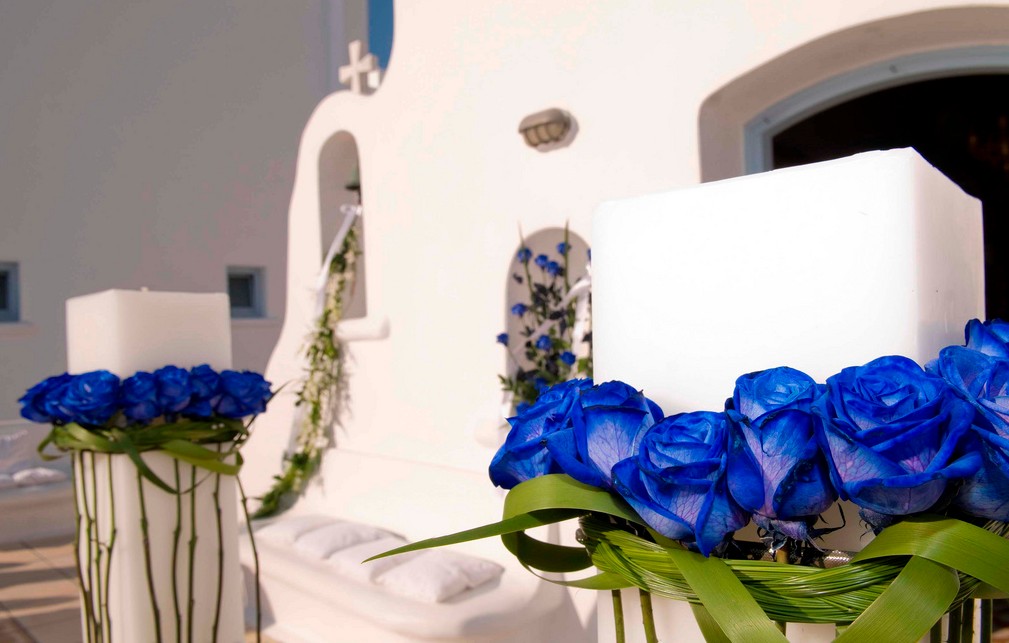 The private white-washed chapel named 'Ayia Fotini', Photo credits: www.saintjohn.gr
Feeling alternative? The thin, fine sand caressed by the sea and teaming up with the gentle Aegean breeze and a spectacular sunset is exactly what you need. Why not hold your wedding ceremony at Saint John's exclusive private beach? Exchanging wedding vows at one of Mykonos's most famous beachfronts is a once-in-a-lifetime experience that will be a truly memorable one for everyone sharing those precious moments by your side.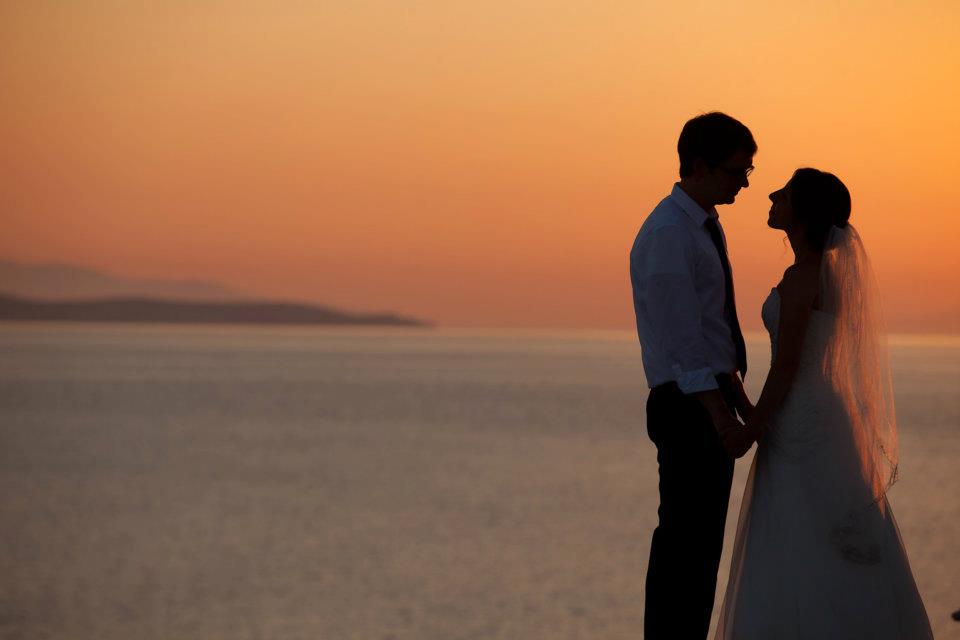 Photo credits: www.saintjohn.gr
At
Saint John Hotel
we have put together the most dynamic team of specialists that will commence with the organization of your wedding as soon as you decide to make your dream come true! In case you are located abroad, the process will commence earlier. No matter where you come from, near or far, our professional wedding planners know precisely what to do in order to guide you smoothly to the successful realization of your big event. By letting us take care of all the important components or the little details that need to be arranged, all you have to do is simply enjoy it to maximum!
Our
special venues
within the resort can comfortably accommodate up to eight hundred guests covering an array of wedding styles. Let us know how you would like this special day to unravel. We can expertly cater for anything you have in mind post wedding too! From a festive cocktail party to a glamorous and gourmet five-course reception dinner that includes an innovative vegetarian option for guests with special dietary preferences.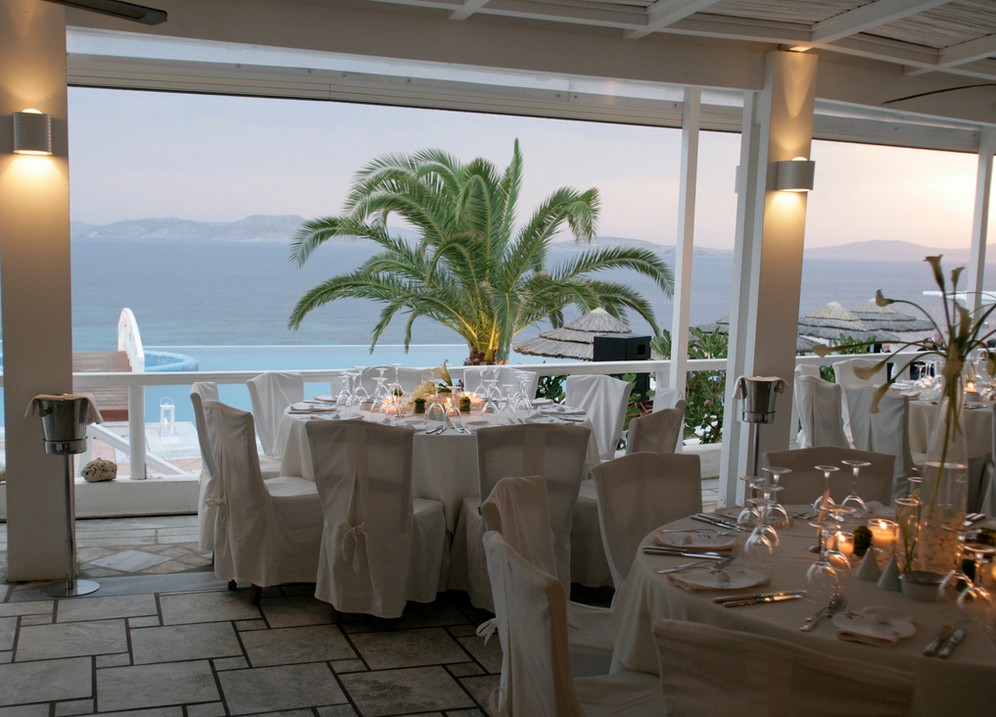 Photo credits: www.saintjohn.gr
Reflecting an inert sensitivity towards your own envisaged wedding, every wish will be taken into consideration. Remember…Mykonos is the Queen of the Cyclades and here… anything is possible!
Our wedding packages are specially crafted so as to provide the bride and groom with complementary services, such as pampering treatments at the Aphrodite Hotel Spa and Beauty Center within our premises and a very elaborate décor consisting of floral decorations and champagne at your romantic beachfront suite with the option of your own private swimming pool, as well as, at a selection of stunning VIP villas which you can share with members of your family without missing any of your privacy whatsoever.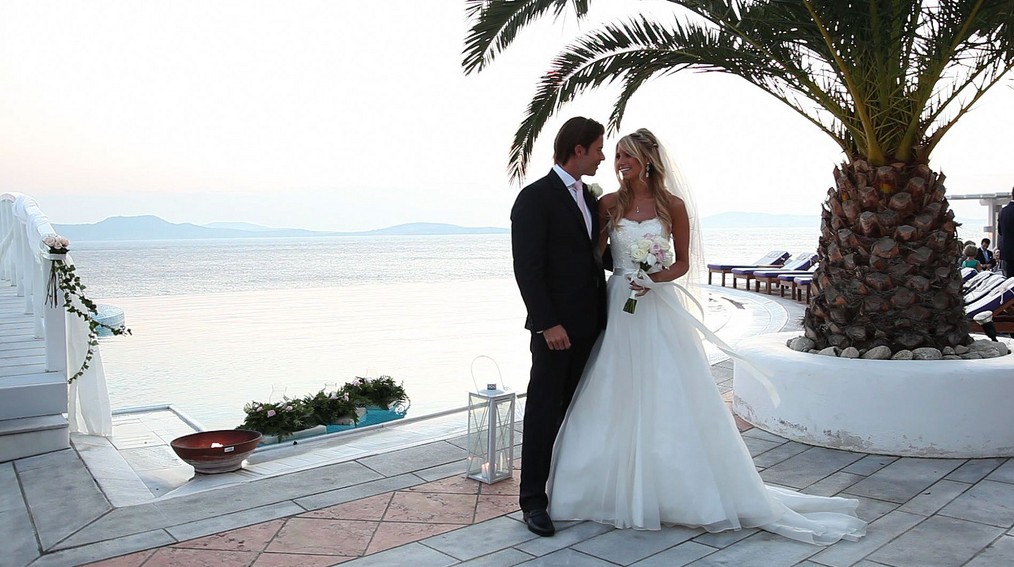 Photo credits: www.saintjohn.gr
Saint John 5 star Luxury Resort Hotel proudly undertakes the responsibility to prepare the most magical Mykonian wedding for you and your guests and has been dedicated to putting its signature at numerous ultimate ceremonies and island celebrations. Our wedding and honeymoon packages will meet your taste and budget within an exclusive prestigious environment at all cases.

We even cover all the arrangements concerning the legal requirements and the appropriate documentation. Our prime aim is to provide you with a spectacular result that will light up the Mykonian sky on the night of your wedding!