Destination Mykonos… Say "YES' to hosting your corporate event on the island of the winds!
Wishing on a special corporate event unraveling within luxurious surroundings and spectacular landscapes all around? The sunny climate, the blue sky, the mesmerizing Aegean Sea, the well trained staff of Saint John Hotel Villas & Spa all join forces to provide you with the successful planning and implementation of the corporate event you have in mind… followed by a magical stay in our plethora of exquisite rooms, superb suites and VIP villas!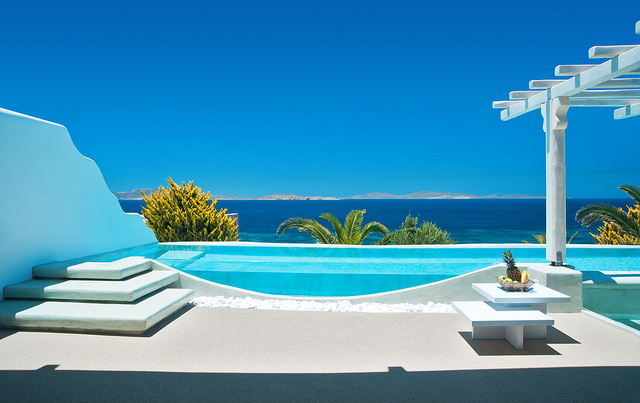 Saint John Hotel Villas & Spa, Mykonos Greece.
Mykonos may be one of the smallest islands in the Cyclades but it is a cosmopolitan one, drawing the international jet set like a magnet! Whether you are planning a major product launch, a large conference with international guests, a series of important sales workshops for your employees, a themed event for a corporate celebration, a Press event or, indeed, your annual team-building & activities meeting… simply nothing compares to portraying the above with the majestic landscapes, the beautiful beaches, the picturesque main town and the varied gastronomy of Mykonos!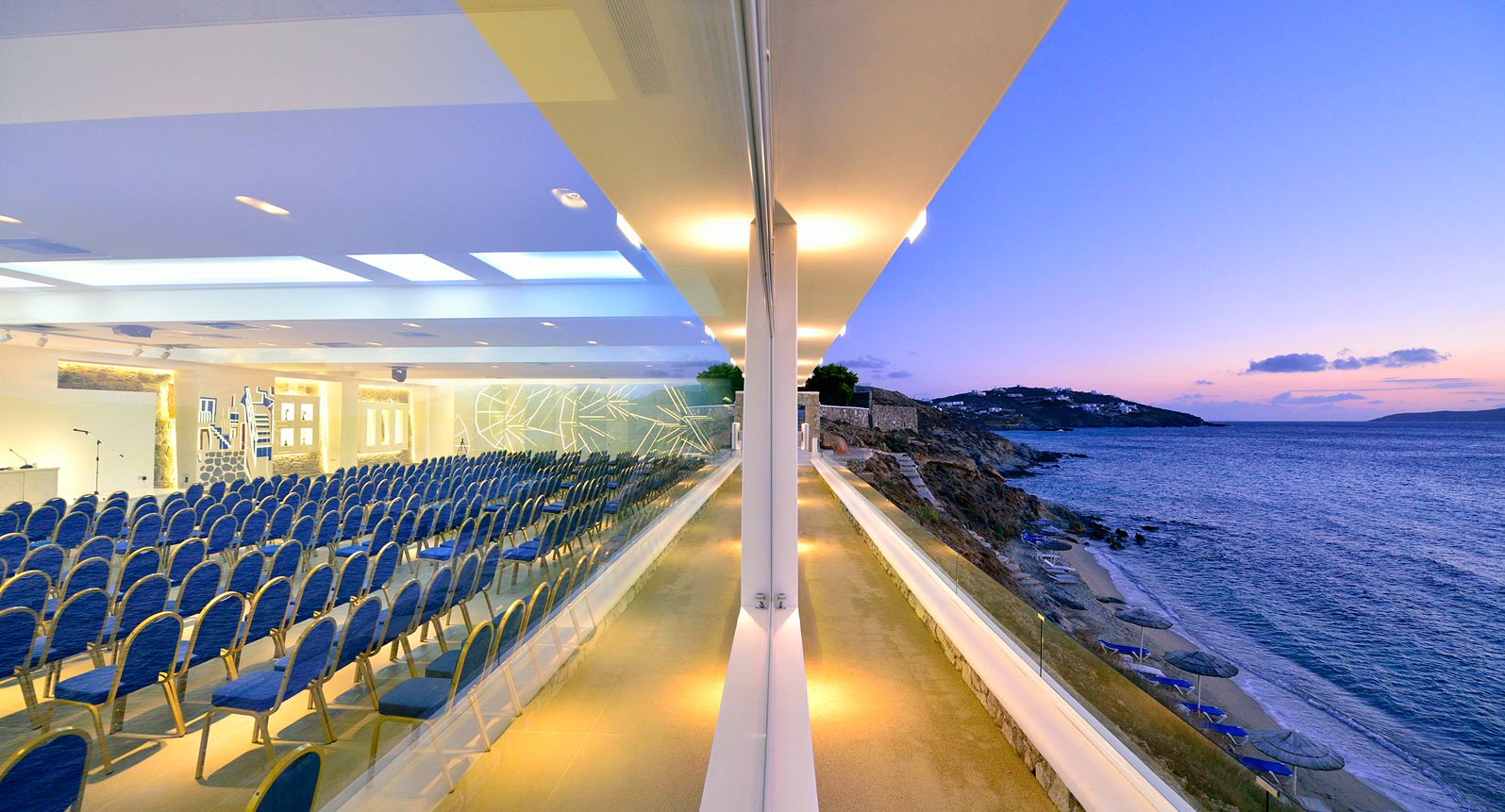 Conference room at Saint John Hotel Villas & Spa, Mykonos Greece.
At Saint John Hotel Villas & Spa we can cater for absolutely any type of corporate event…
Our conference and corporate event venue is specially crafted to meet professional requirements and host functions in a superb setting that is bound to inspire all participants, thus, ensure a memorable and productive event. Join us at our innovative, state-of-the-art Conference Centre and profit from our overall lavish hospitality.

The Conference Centre of Saint John Hotel Villas & Spa consists of three spacious conference rooms. "THALATTA", "Pelagos" and "Zeus". These halls are adaptable to either classroom or theatre style configurations and have the capacity to accommodate up to 850 participants in total.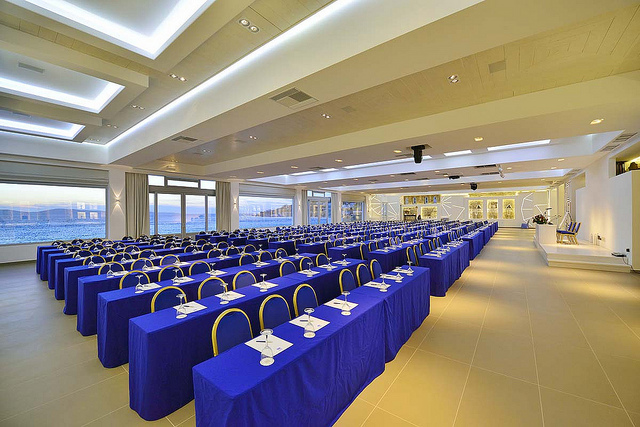 Conference room at Saint John Hotel Villas & Spa, Mykonos Greece.
Further portrayed by top audio-visual equipment, fast internet and a highly professional conference team that will assist guests from every aspect, hosting your corporate event with us will be the best decision you have ever taken!
The island's attractions can compete with those of the most well known destinations of the world and your corporate guests will certainly discover numerous places to visit and activities to enjoy ranging from museums and Cycladic nature appreciation, to jeep safari and sailing tours around the island.  There is nothing wrong with wanting to cherish the free time that may arise during a tight corporate schedule!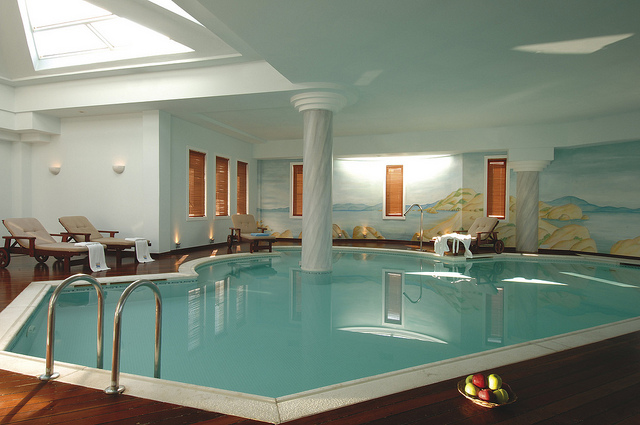 Spa center at Saint John Hotel Villas & Spa, Mykonos Greece
Alternatively, your free time can be devoted to your outmost relaxation and a pampering experience at our 'Aphrodite Spa and Beauty Center'. Our Spa takes its name after the Greek goddess of love and beauty and it is one of the leading spa resorts on Mykonos island presenting state-of-the-art facilities and cutting edge treatments. 'Aphrodite Spa and Beauty Center' at Saint John Hotel Villas & Spa assures its guests with the highest standard of professionalism and a rich range of top-rated personalized services.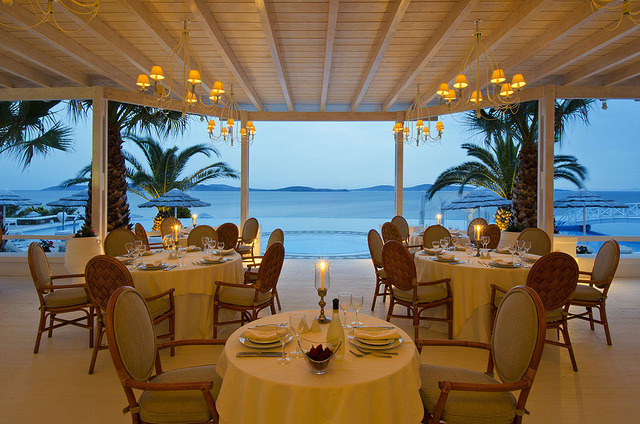 Kalimera restaurant at Saint John Hotel Villas & Spa, Mykonos Greece
At Saint John Hotel Villas & Spa we are equally proud of our haute cuisine, fine wines and inspirational cocktails. We can expertly cater for anything you have in mind post event too! From a festive cocktail party and a glamorous, gourmet five-course dinner that includes an innovative vegetarian option for participants with special dietary preferences, to a series of wine-tasting sessions of the exuberant local wines. Our variety of restaurants and bars within the premises will certainly cover your expectations and enchant your taste buds.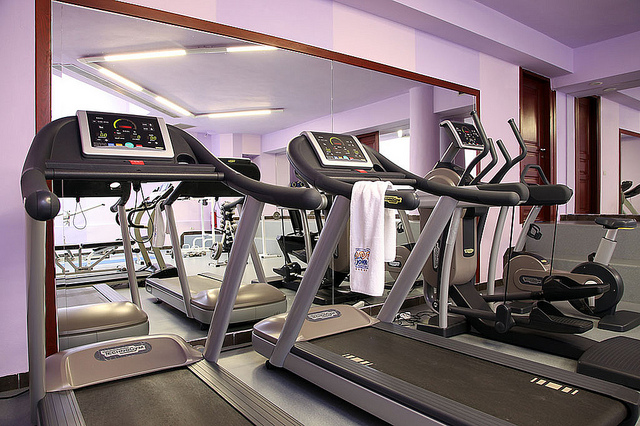 Fitness center at Saint John Hotel Villas & Spa, Mykonos Greece
Last but not least and purely based on our knowledge of how important keeping fit is to some professionals, Saint John Hotel Villas & Spa incorporates a modern and stylish fitness center too. Well equipped, spacious and boasting lovely views from large windows it will certainly attract corporate guests during their free time on the island who wish to continue their personal training and stay in shape!
Your corporate event on Mykonos island will be long remembered by your colleagues, guests and employees. At Saint John Hotel Villas & Spa we have put together the most dynamic team of specialists that will commence with the organization of your corporate event as soon as you decide to say 'YES' and host it on the island of the winds!
In case your company or firm is located abroad, the process will have to commence at a rather earlier date, of course. No matter where you are based, near or far, our professional staff knows precisely what to do in order to guide you through the successful implementation of your significant event.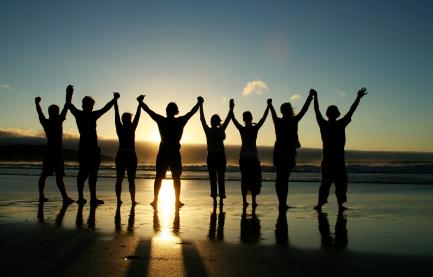 Photo credits: grassshackroad.com
By letting us take care of all the important components or the little details that need to be arranged, all you have to do is simply come to the island and enjoy your event to maximum.