REINVENTING THE ROMANTIC ESCAPE IN MYKONOS WITH ST. JOHN
After decades as a must-visit destination for international jet-setters and club kids, the Greek island of Mykonos is recapturing the romance and sophistication of its glory days, when Jackie Onassis and friends regularly dropped anchor. Head to any local establishment these days and you'll find a scene that's a throwback to the 1960's: multinational thirty-somethings in pressed linen and khaki, clinking champagne flutes to a world-lounge soundtrack. Such is the scene at any of the island's latest glamour spots. 

After a sublime and sunny afternoon on one the island's many glorious beaches, patrons still flock to the indoor-outdoor spaces in the town village or as the locals call it, "Chora" that is Mykonos Town, or up into the hills high above the harbor. They go as much for the staggering sunset and nighttime views across the island, as for the delightful cocktails and fresh Mykonian dishes served late into the night. It is always easy to find a suitable day or nightspot, either for romance, chill, or rocking beats, all are popular with weekending Athenians as well as international guests from every corner of the earth. All of them relishing the evening sky as their ceiling of twinkling lights over a candlelit patio wrapped in cascading bougainvillea, and courtyards lined with olive trees. 

Absolutely romantic, Mykonos is no longer just the crazed party zone it was once known for.
St. John Resort and Spa epitomizes this classic tradition of romance that all starry-eyed lovers and travelers to Mykonos are currently seeking. And whether celebrating as newlyweds or on your "golden honeymoon," without even leaving the property, you will find simply the best Mykonos has to offer when it comes to a beautiful beachfront setting, superbly luxurious accommodations, sophisticated yet relaxed pool scene, and fine sea view dining beneath a canopy of Aegean stars.
However when the wanderlust strikes, there is a myriad of activities on the island to enhance your ultimate romantic escape.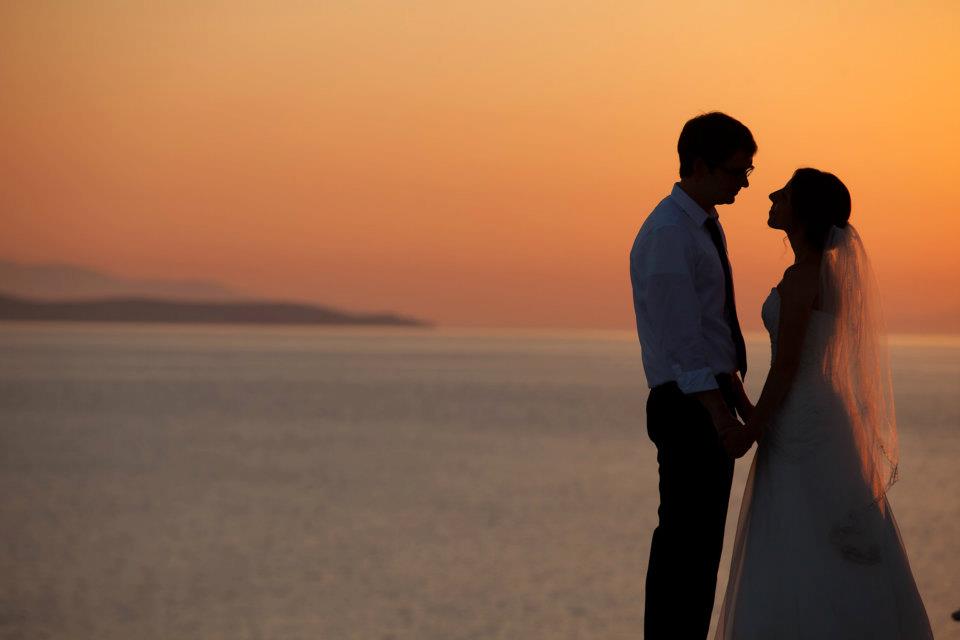 Of course no visit to Mykonos is complete without a stop by Little Venice, a great spot to go for drinks to watch the sunset, or a mellower party scene after dinner, keeping in mind it's very popular so don't be afraid to also explore the little hideaways off the beaten path. Nothing is more romantic than getting lost in the maze of charming pedestrian pathways nearby and throughout the Chora. Grab a table at any little hole-in-the-wall and have a cocktail or tasty snack while enjoying the world's best beautiful-people-watching.

On the western side of Chora, before you get to Little Venice you will find the imposing Paraportiani Church. It stands in the historic area known as "Kastro" or castle area, the oldest section of town. Paraportiani evolved over two hundred years beginning in 1475. Four little churches were joined together to form the lower or main area of the church and a fifth church was placed on top to form the dome that we see today. In medieval times, the Kastro area was surrounded by a stone wall and Paraportiani which loosely translates to mean "inner door," was just that in terms of entry to the area past the wall. Today it presents a formidable sight from its high perch, and like the equally iconic Mykonos windmills, can be seen from miles around.

A must-do day trip from Mykonos is to take the boat to Delos, birthplace of Apollo and the largest city in the world at one point. It's history goes back to 3000 BC, and the island ruins are in excellent condition. Tiny little Delos was the most sacred island in ancient Greece, the birthplace of twins Apollo and Artemis. Today it is uninhabited, except for the island's dragon lizards, imported from Africa by the ancient Greeks to honor Apollo's divine title of "Lizard-slayer." The ruins date from the Romans right back to the 7th century BC, when Delos's greatest treasures, the five crouching, roaring stone lions were carved. The entire island is a UNESCO site. An otherworldly and romantic experience, only a 20 minute boat ride away.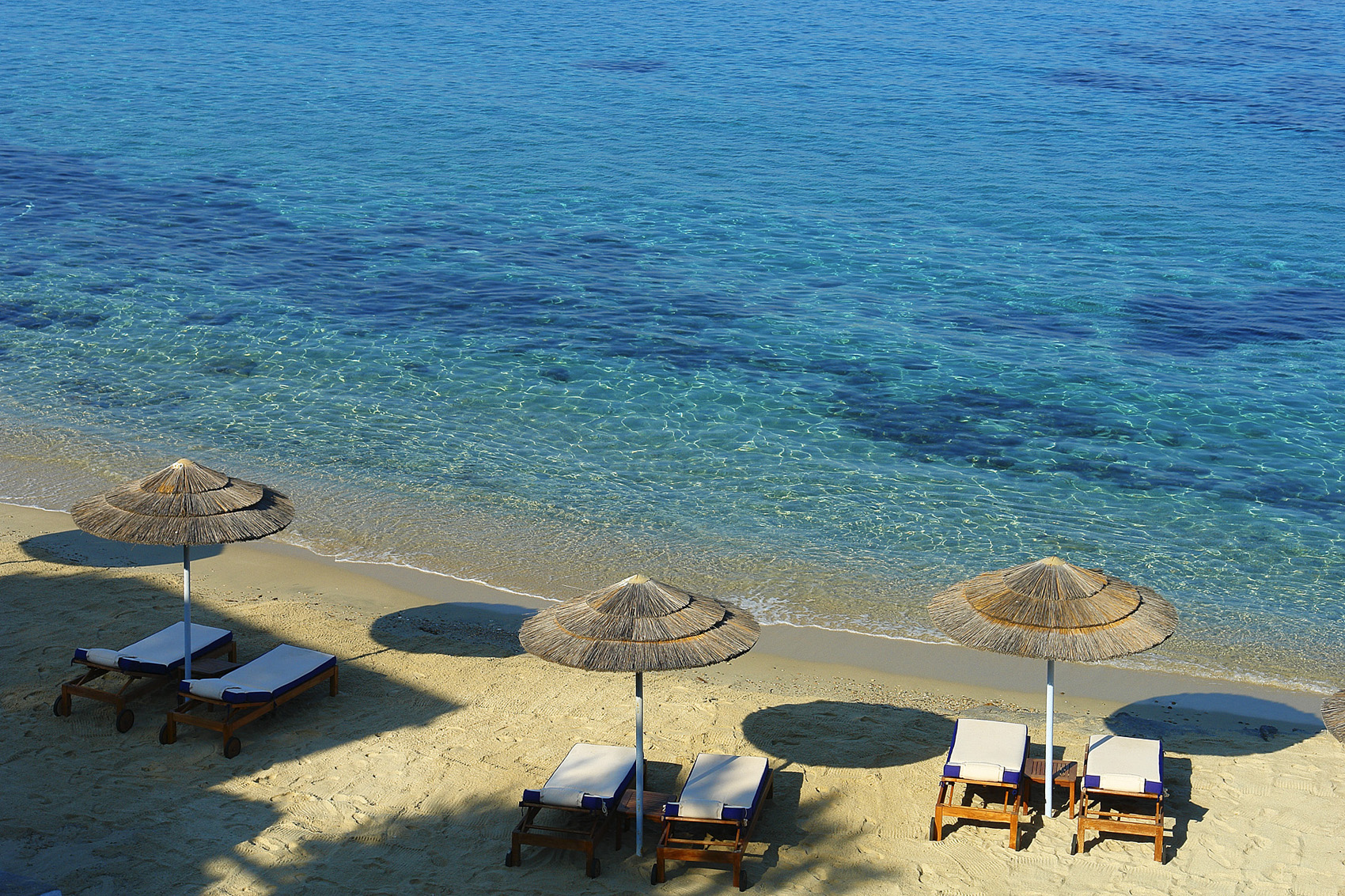 And finally, if you can manage to tear yourselves away from the sublime St. John pool and seaside experience to check out the entire world famous Mykonos beach scene, it's worth renting a car or moped for exploring the island as the coast is ringed with over 30 beaches. Those on the south are protected from the northerly winds but tend to be more crowded. And while Paradise and Super Paradise are certainly loads of fun, for quieter beach retreats perhaps try Ftelia, Panormos or Agios Sostis, all good choices for more secluded seaside moments.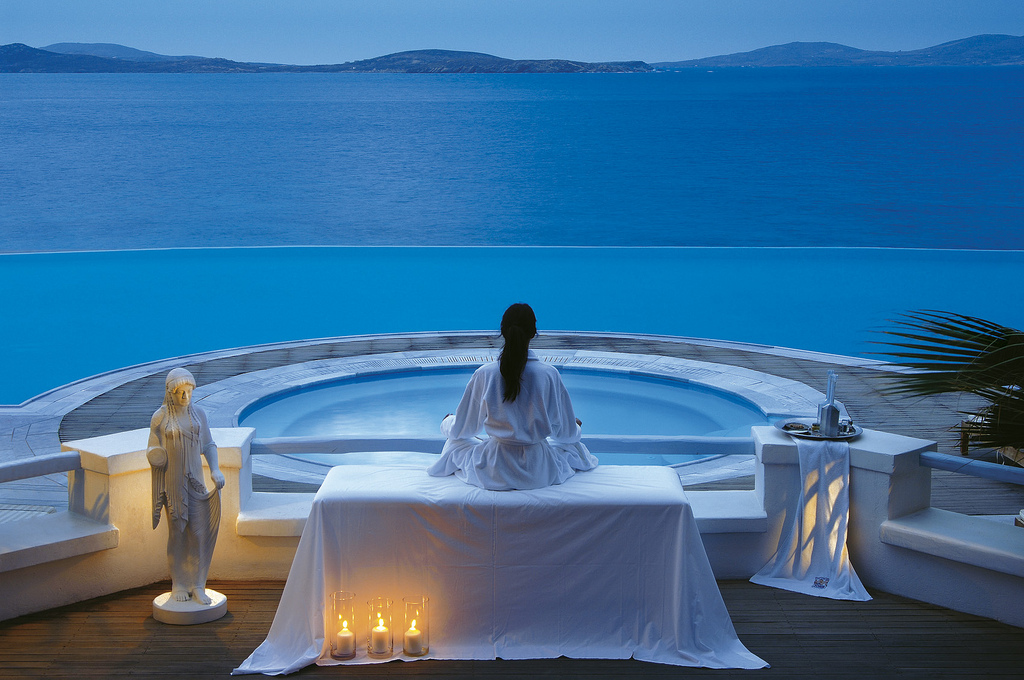 After a full day of sun and swim, head back to your romantic villa retreat at the St. John Resort, perhaps to indulge in a rejuventing spa treatment, and continue your romantic escape with an evening only limited by your dreams... 

Contact us today to reinvent the romance of Mykonos 2015 style for yourselves!