Indulge in our World of Fine Dining and Drinking !
A haven for carefree moments, away from the restless routine, Saint John Mykonos Hotel welcomes its guests and visitors in an opulent environment steeped in elegance. Comprising the timeless cycladic minimal architecture of simple curvy lines, our whitewashed cubist houses cascade down onto the private pristine 200 meters beach. Lying upon Agios Ioannis, the place that Shirley Valentine's movie was filmed, our hotel stands out for its hospitality and its luxurious amenities. A place of stylish surroundings and stupendous vistas to the Aegean's infinite blue, our hotel offers relaxing moments wrapped in lavishness. 

We pamper you all day long with our bar and restaurants, to take in the cosmopolitan ambiance of Mykonos in the convenience of our premises. Just before the infinite pool merges with the Aegean sea's blue hues lies Kalimera. A sumptuous buffet offers delicious treats to kick-start your morning accompanied with freshly grounded coffees and squeezed juices. The rest of the day you can indulge in the mouthwatering a la cart   delicacies, snacks and refreshments.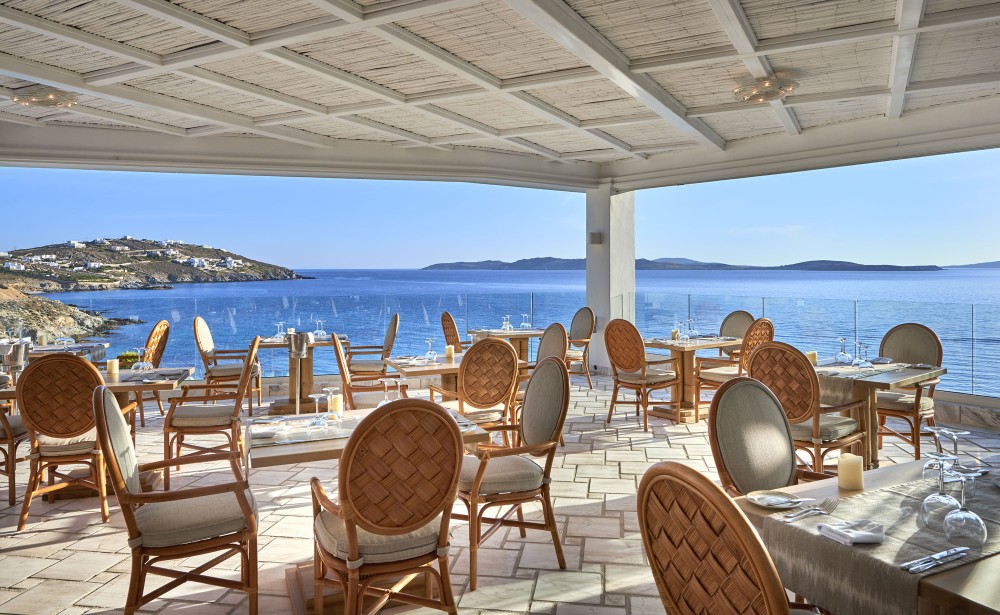 Gourmet dishes and traditional Greek recipes with a modern twist are served in Symposium. The breathtaking views to the sparkling sea will satisfy your appetite for images of extraordinary beauty, while every dish is a feast for the senses. A wide range of deserts and our extensive wine selection complete an amazing experience. 
Refreshing tipples and signature cocktails are served at Shirley Valentine's Bar, from morning till evening. A place to relax in our sun loungers, soaking up the scorching sun. The pool area offers leisure moments to our guests and visitors alike. 
Standing out for its sheer luxury and sophistication, Entre Nous is located in panoramic lounge and lobby area of the hotel. The chic bar is the perfect springboard before unwinding in Mykonos nightlife.
Wherever you decide to enjoy leisure moments, Saint John Mykonos Hotel has a place for everyone!