Acquire only the best in life by staying at our new Five Bedroom Executive Villa!
In a previous blog published in May we paid special homage to our unique and precious collection of Villas, here, at Saint John Hotel Villas & Spa for which collection we are immensely proud! We present guests with the most outstanding Villas on the island of Mykonos which address those who always want to acquire only the best in life!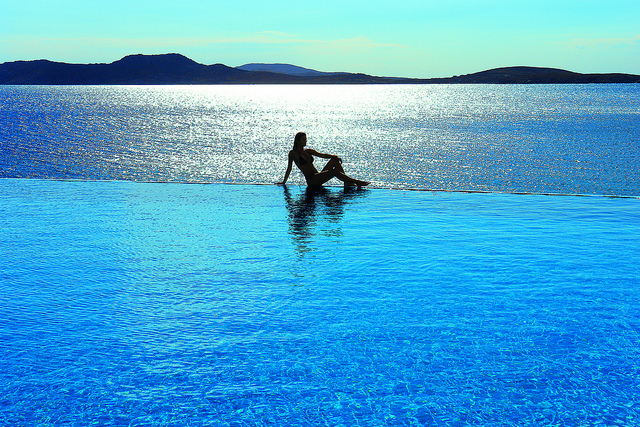 Saint John Hotel's pool area

Our aim is to make our guests feel on top of the world… To this end we constantly renovate and ameliorate and we continuously go to great lengths to present new room types and outstanding accommodation selections to our new and repeating clientele.

If you wish to experience the VIP way of living on the island of Mykonos, then look no further for our villas are destined to make you feel seriously fabulous! The 'Queen of the Cyclades' is without the merest of doubts the most cosmopolitan island in Greece. The Villas selection at Saint John Hotel Villas & Spa is a magnetizing pole of attraction for numerous VIPs and celebrities year after year who come to us to experience the absolute private and carefree holiday.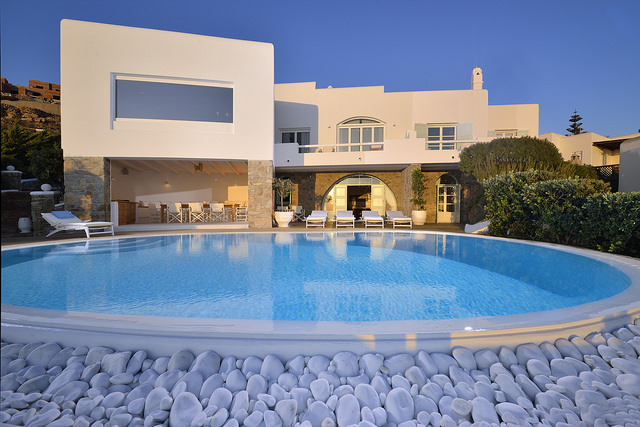 The 5 Bedroom Executive Villa - Saint John Hotel Villas & Spa
Our villas vary in size according to their occupancy - the One-bedroom villa, the Two-bedroom villas, the Three-bedroom villas, the State-of-the-art Four-bedroom Villa and the glamorous Five-bedroom Villa… but they all equally offer their own private swimming pool and absolute privacy in their gorgeously luxurious interiors! A new type of villa was greeted with pleasure this summer: The absolutely fabulous 'Five-bedroom Executive Villa'...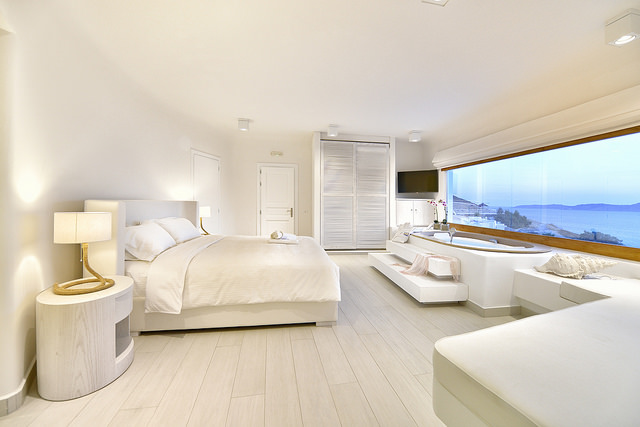 The ultra-chic interior of 5 Bedroom Executive Villa - Saint John Hotel Villas & Spa
We present to you a majestic property boasting bold minimal aesthetics in perfect marriage to traditional earthy features, like stone and wood on its outside and superior floors, pricey furniture and white color in dominance in its ultra-chic interior. Welcome to our new room type – a dream home generously offering an alluring Myconian style and living spaces that can accommodate large groups: the extraordinary Five-bedroom Executive Villa.

The most spacious interiors you have ever seen in a holiday accommodation. Cherished and carefully picked furnishings and elaborate decorative ornaments, superior fabrics and quality bed-linen, beautifully tiled bathrooms and branded toiletries plus huge private verandas overlooking the serene magnificence of the Aegean Sea are only just a few of the key highlights of the Five-bedroom Executive Villa that are bound to make you feel seriously indulgent and pampered.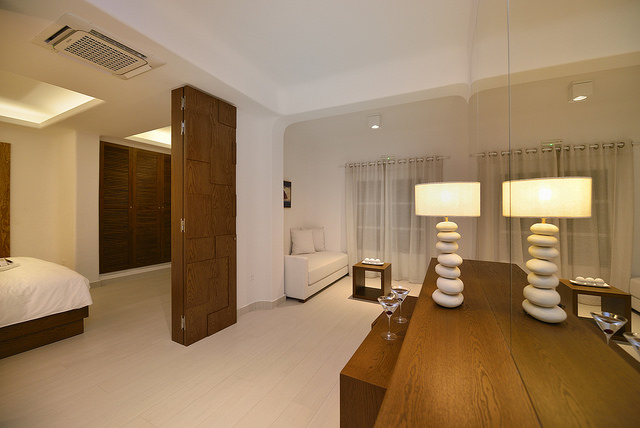 The 5 Bedroom Executive Villa - Saint John Hotel Villas & Spa
Relax, unwind and sense the unhurried pace of island living... Enjoy deluxe facilities and impeccable services across and around, plunge into the finesse of one of the five marble bathrooms boasting a steam shower, a Jacuzzi and a bathtub. Enjoy carefree days and nights by your private pool and benefit from the comfortable loungers as you gaze at the sparkling sea from your private terrace.

The new villa type is fully air-conditioned and presents guests with high-tech appliances in the living room (Cable-Satellite TV,CD/DVD Player) and a fire safety system. It incorporates a fully equipped kitchen with modern appliances and coffee facilities, as well as, a very hospitable dining area.

Housekeeping visits the villa twice daily and there is free use of bathrobes and beach towels at the stunning area of the private swimming pool. If you are combining holidays with some work then there is a writing desk at your disposal, perfect internet access and a direct telephone line to cover your communicative purposes.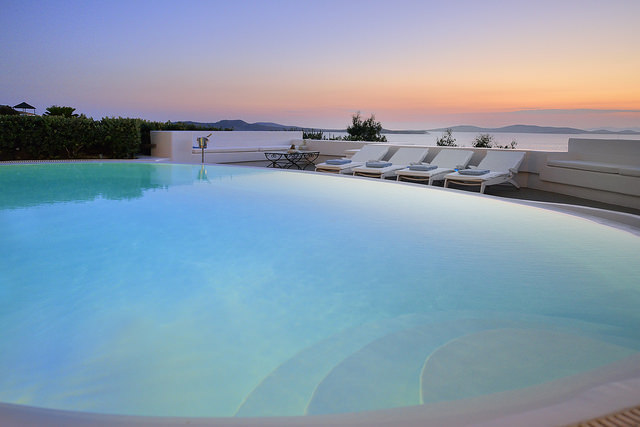 The 5 Bedroom Executive Villa - Saint John Hotel Villas & Spa
Who could ask for more? The Five-bedroom Executive Villa is indeed the epitome of glamorous accommodation on the island of Mykonos! We will be happy to accommodate you with cordial hospitality.