Amazing water sports adventures & much more..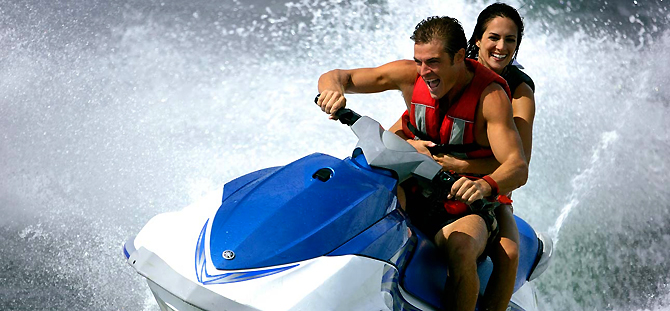 Mykonos, the island paradise of blazing hot sun, golden sandy beaches and an extravagant lifestyle is where the initial excitement can begin at the break of dawn and continue right through until the following day. As philosopher and poet, Ralph Waldo Emerson once said, "Live in the sunshine, swim the sea, drink the wild air," and that about sums up Mykonos.

Whether visitors to this beautiful island seek complete relaxation or want a high adventure holiday, no one will leave disappointed. Mykonos is a haven of fun and games, and an ideal location for rejuvenating the mind and body through recreational activities. For those who can muster the strength and energy, there is an array of extreme sports and for those who want something a little less taxing, there is plenty of other less energetic things to do.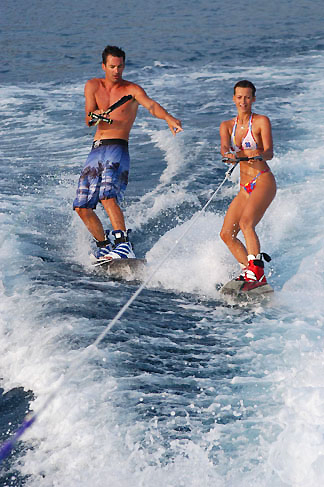 WATER SKING

Mykonos is one of the top destinations for water sports and visitors can ride the waves from a number of locations. However, Platis Gialos Bay is an extremely popular beach for participating in all kinds of activities.
Just 4km from Mykonos town on the southern side of the island and within a short distance of Psarou and Paranga Beaches, this long sandy beach is perfect for fast paced action and family fun. A large water sports club offers Water Skiing, Wakeboarding and Jet Ski rides plus there are lots of recreational rides for younger people.
 Whether it is to demonstrate extraordinary skills or to learn an activity right from the beginning, professional instructors are on hand to ensure an amazing water sports adventure.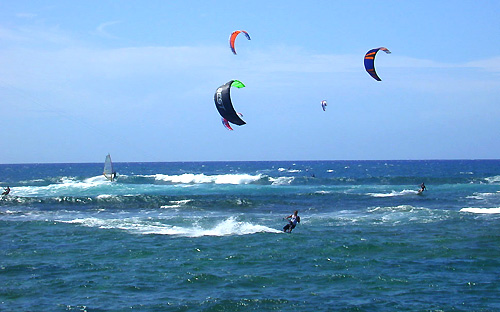 KITE SURFING
Kite surfing entails using the power of the wind to propel a surfer across the water on a kite board, so what better location to enjoy this breathtaking sport than on Mykonos, 'The Island of the Winds."
Korfos bay and Kalafatis or Ftelia beaches are ideal for kite surfing due to the strong offshore breezes blowing during late spring and early summer.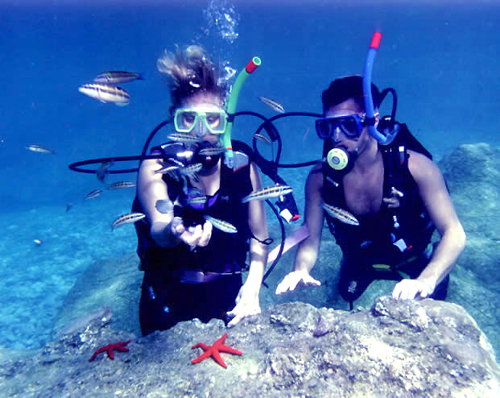 SCUBA DIVING & SNORKELING

There are a number of sites around Mykonos where visitors can experience the thrill and excitement of scuba diving or snorkeling, and no previous dive experience is necessary. There are the professional diving centres located in Kalafatis, Lia, Ornos and Paradise Beach where all the essential equipment is provided. For first time divers in particular, Mykonos offers a marvelous introduction to experience the thrill of exploring the mysterious life below the crystal waters of the Aegean Sea and to discover the marvelous world of sea creatures clinging to reefs, rocks and caverns amongst the colourful flora and fauna.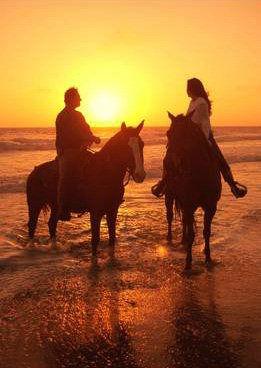 HORSEBACK RIDING

What better way to discover secluded beaches, hillside trails and take in the scenic countryside than on horseback. There are lessons, rides and Island tours in various regions of the island, including Agios Ioannis just outside the main town. Families with young children can enjoy a summer afternoon of riding through the surrounding villages and for romantic couples; it is an idyllic way of watching Mykonos's spectacular sunsets while riding along the beach.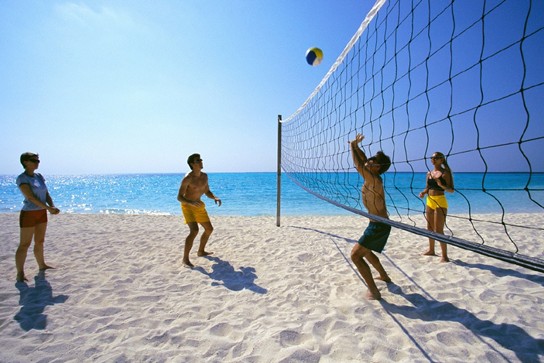 BEACH VOLLEYBALL

Beach Volleyball enthusiasts can find facilities to play this fast-moving game on many of the beaches on Mykonos. Some of the well-known places are Paradise beach, Kalo Livadi which is between Kalafatis and Elia Beaches, just 2 km from Ano Mera and the popular Panormos Beach which is surrounded by sand dunes.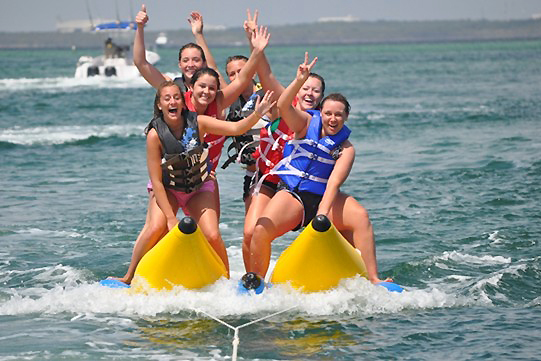 FUN FOR THE KIDS
No Island would be complete without its fun and games and Mykonos is no exception. Children and the young at heart can find pedal boats, banana rides, tube and Xtreme Rib rides on most of the large populated beaches and there is also Mountain bike rental available on request.
Mykonos has everything a beautiful paradise should and that is why travelers return time after time.