The Transcendental Beauty of Mykonian Sunsets
If you have ever visited Mykonos, you will definitely hold dear in your heart the picture of this special chromatic blend that overwhelms the sky and gets mirrored on the surface of the sea. It is this magical sunset that has gained universal acclaim and has been attracting millions of travelers from all over the world every single year. Whether you are romantic or not, you cannot help but notice the sublime beauty that this natural phenomenon holds. Punctual and ever-present, the Mykonian sunset is bound to steal your heart!

As the sun goes down to sleep, the port gets filled with tourists and locals who wish to become part and witness this mystical experience. Little Venice holds the scepters as the best place to admire the sunset. Just before turning in and giving its place to the shiny moon, the sun spread its colors all over the place. Blue becomes red and orange, purple and yellow, offering a sight for sore eyes. In this splendid backdrop, heart beats faster and cameras start filming to capture this monumental spectacle.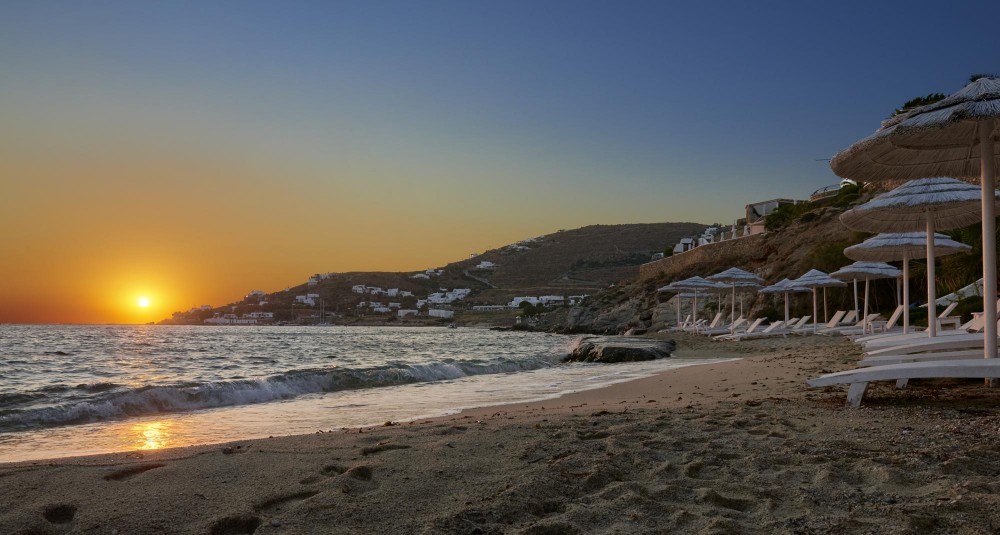 Those who wish to avoid the hustle and bustle of Little Venice and the center of Mykonos will be pleased to know that Saint John Hotel Resort offers an equally, if not more breathtaking spectacle to its exclusive guests. You are welcome to lay back and enjoy this spectacular feeling as the sun sets and the colors of the sky are purely spellbinding. Either by the swimming pool or on the beach, at the restaurant or in the privacy of your own retreat, the bay of Agios Ioannis (or else Saint John) invites you to a singular experience in Mykonos!