The Magical Private Beach of Agios Ioannis
Mykonos is a beautiful island of Cyclades, world renowned for its supreme natural beauty and breathtaking landscapes. If you are looking for the ultimate place to relax and soak under the Mediterranean sun, you are welcome to explore the astonishing beauty of Agios Ioannis Bay. This is undoubtedly one of the most wonderful parts all over the island, highlighting the cobalt blue waters of the Aegean Sea and the splendidly soft silky sand inviting you to walk barefoot on the ground.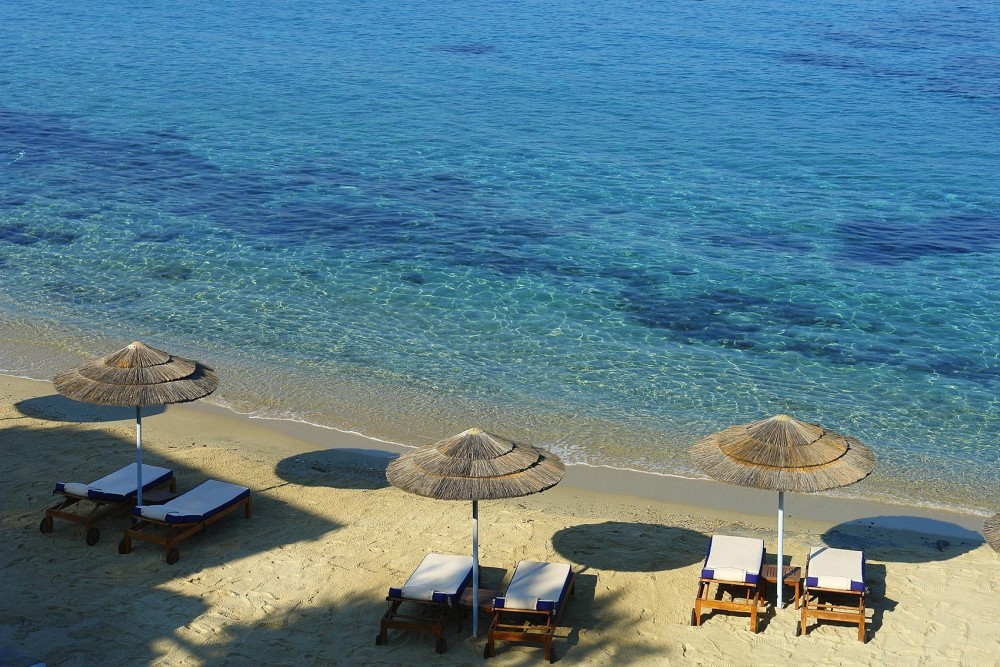 The pristine waters of Saint John bay are definitely tempting the travelers, so as to dive in and enjoy the refreshing sensation of swimming in the perfectly transparent sea, gazing at the sea bed. Saint John Hotel stretches along the bay where the famous movie "Shirley Valentine" was filmed. Even if you do not recall the majestic screenshots from this iconic movie, you are welcome to see it from up close and admire its unique beauty. There is no other place like Agios Ioannis bay in Mykonos, ideal for those who seek absolute relaxation and invigoration overlooking the unspoiled nature unveiled before their eyes.

Whether you wish to sunbathe and benefit from the precious rays of the Greek sun or sit back and enjoy the generous shades of the privately owned umbrellas, one thing is certain: your swimming experience by the luxurious Saint John Hotel will be kept imprinted within your heart and soul for a lifetime. Put on your swimwear, take your sun glasses and suntan lotion with you and off you go for a magical experience by the waterfront. Sip on an iced cold cocktail and gaze at the infinite blue of the Aegean Sea, enjoying every moment of your stay in Mykonos!